This is Bithah here (aka Feather / Feathers the Dawn) ~ writing to you all from Bundjalung Country, northern NSW, Australia.
I write to invite all you Wonderful Lights of the Planet Art Network to JOIN TOGETHER with our global family on June 21 / 22 in a Simultaneous Global Meditation.  This Link Up is to help strengthen the beautiful RAINBOW around the WORLD.  Full Respect to Valum Votan's ever call to build this Rainbow Bridge of Light to the coming Planetary Golden Age.  Many who work and live for World Peace (eg, the global family tuned in to Barbara Wolf's
www.globalmeditations.com
) and many who strengthen the sacred Net of Light (eg, Sharon McErlane's
www.grandmothersspeak.is
are supporting this Global Link Up.  The intent is to synchronistically activate together the Rainbow Around the World - strengthening our connectedness, filling all dimensions of this world experience with healing light and prayers for the wellbeing of all, harmonising and activating the Planetary Grid.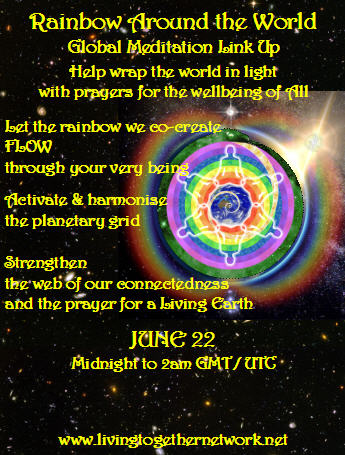 Please let us know if you will be joining us ~ to enhance the Buzz of Knowing we are Consciously Together.
I sincerely hope that this Link Up positively contributes towards the Circumpolar Rainbow Bridge Project.
For the Great and Wondrous Planetary Renewal and Humanity's Galactivation,
Bithah
Let There be PEACE on Earth! 
Aloha and In La'kesh
Bithah
(aka Feather / Feathers the Dawn)
0422 055 911