July 25, 2011 - Red Overtone Skywalker, Kin 213
Español
NEW! Reports from the Day out of Time!
Santa Barbara, CA - USA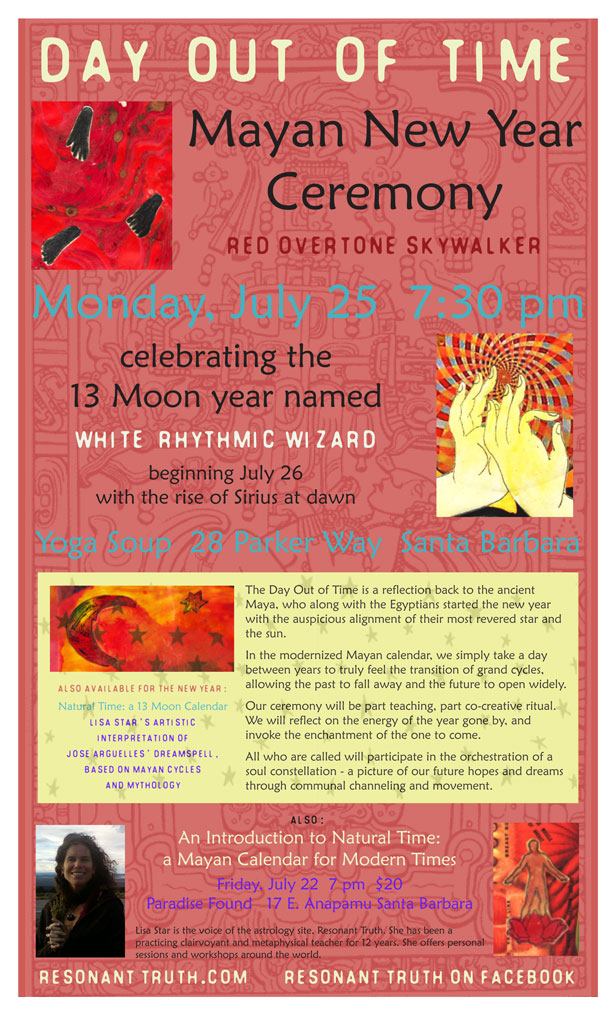 Cordoba - Argentina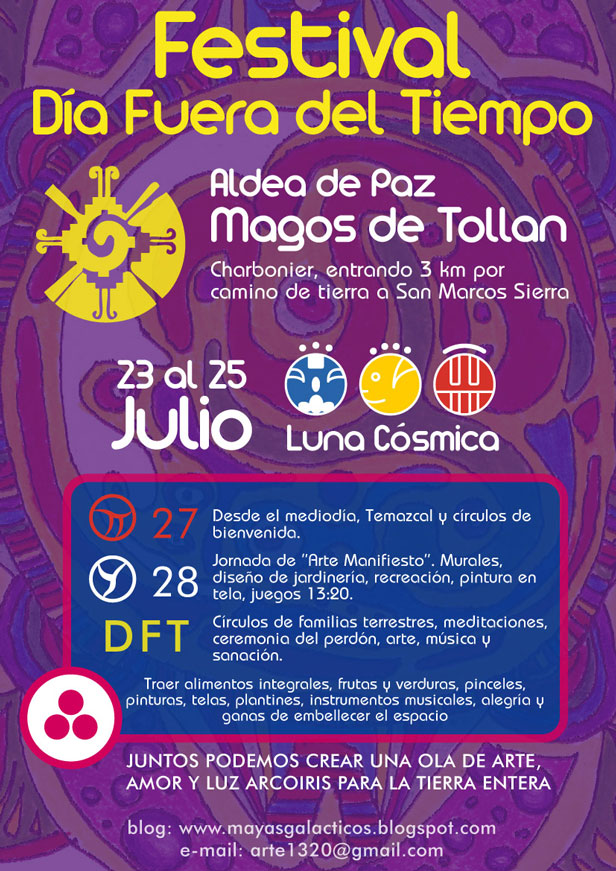 La Plata, Buenos Aires - Argentina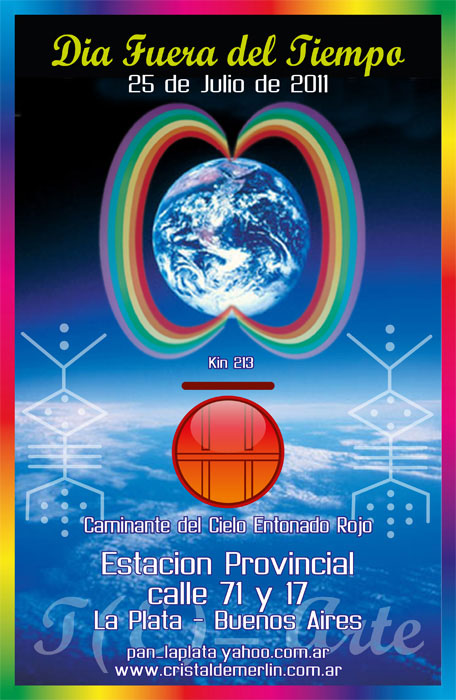 Georgia - USA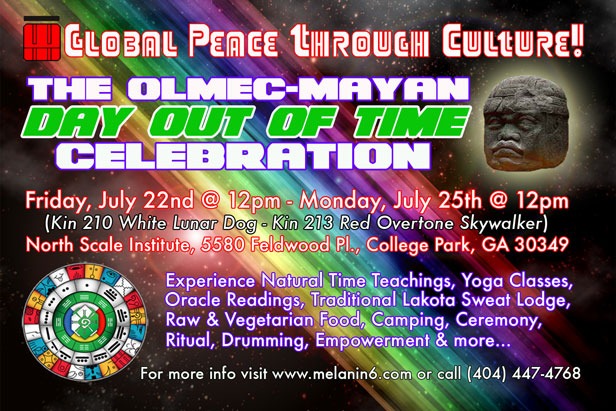 Austin, TX - USA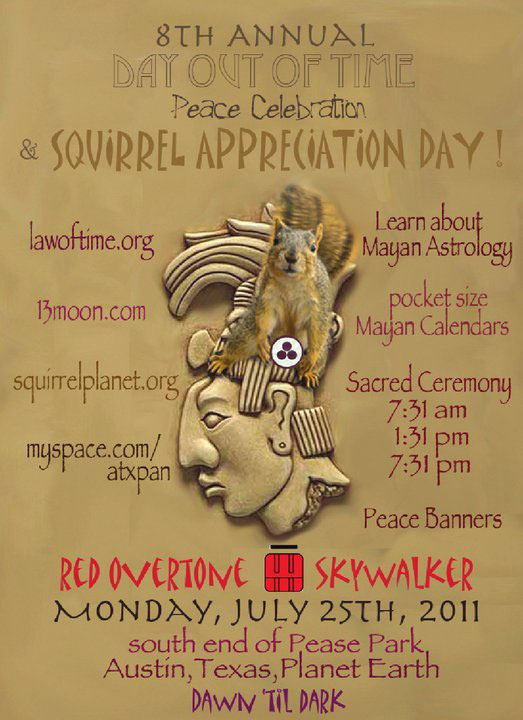 Naples, FL - USA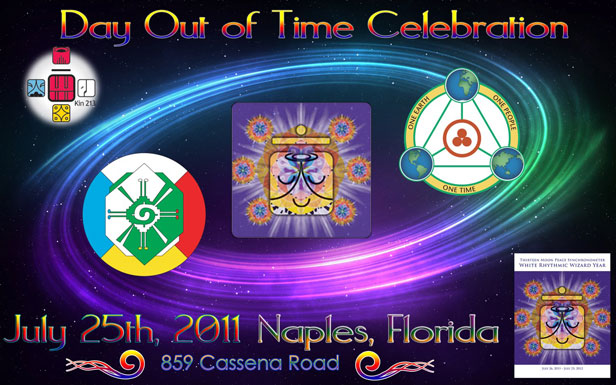 Palenque, Chiapas - Mexico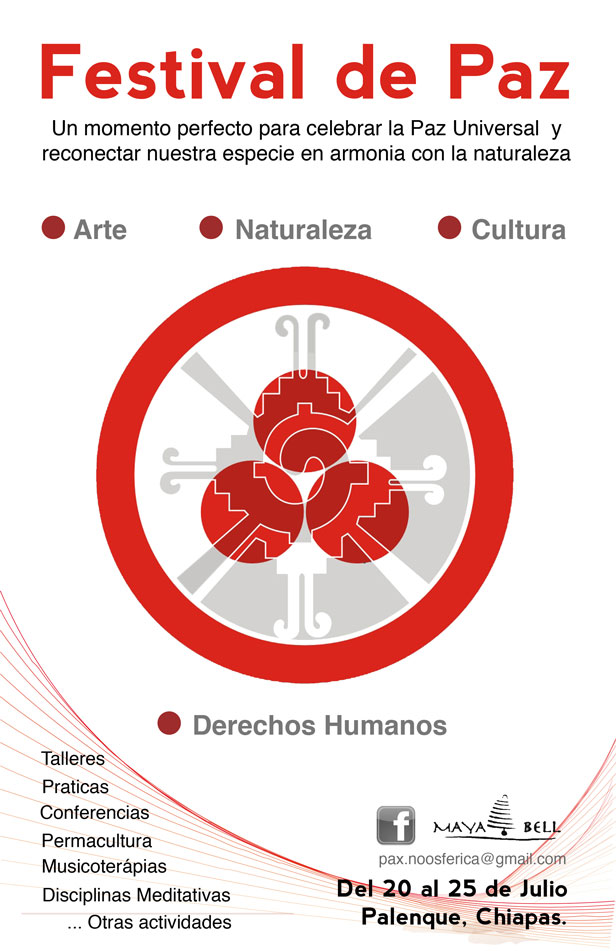 Holbox - Mexico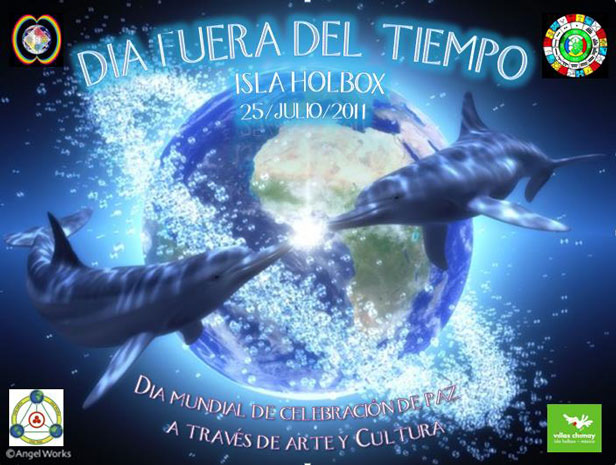 Bariloche, Patagoina - Argentina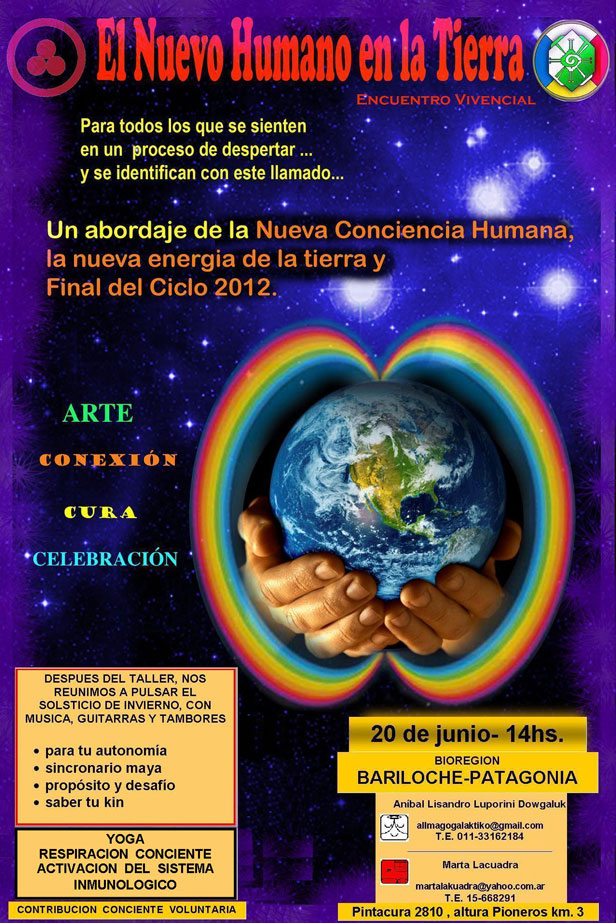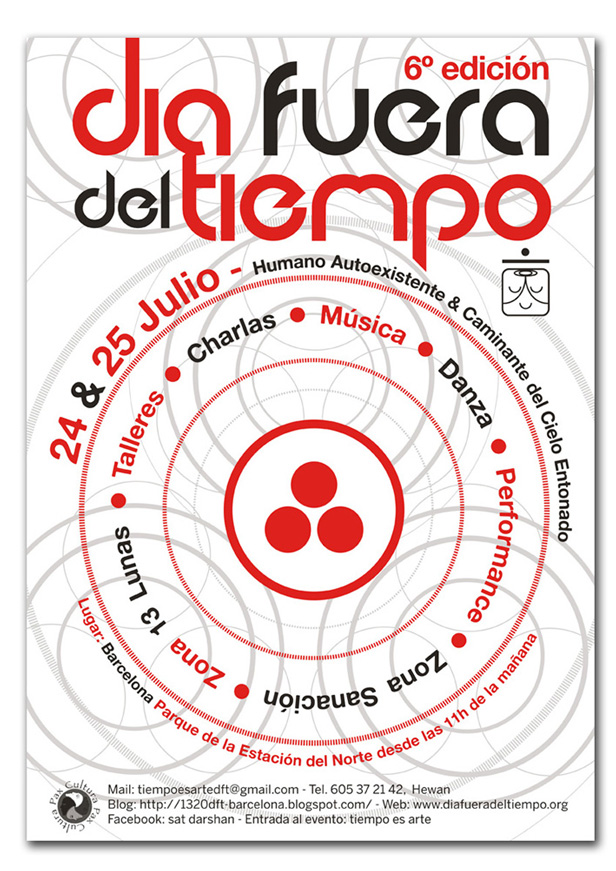 Las Brujas, Canelones - Uruguay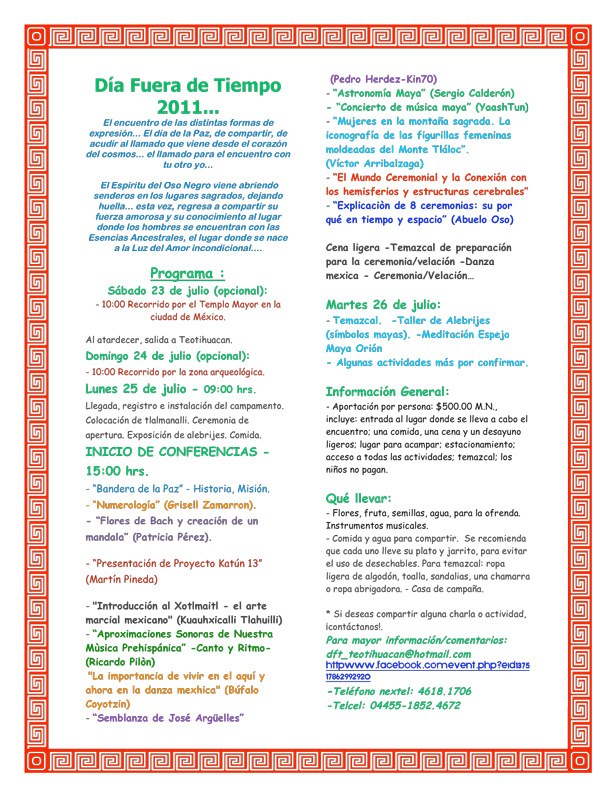 Information:
Location: Ilha de Algodoal (Isle of Algodoal)
Date: 25 and 26 July 2011
Time: 16:30
SCHEDULE:
NIGHT (25 and 26)
-Welcome
-Wheel-Music
-Meeting-Fire
-Food-Sharing
DAY (26)
-Workshops: Swing, Clave, balls, Manufacturing Workshop
-Evening of Poems
-Spiritual Literature
-Yoga and Relaxation
-Gymkhana
-Wheel-Music
-Tuesdays
-Orguestra Machete
-Malabars
-Music
-stamp
-Lundum
-Jazz
note: the site that is Astea standard-bearer of peace will be the chosen place

Sao Paulo - Brazil
VAYEB - DIA FORA DO TEMPO - ITU/SP
Segunda, 25 de julho às 21:00
Rua Padre Bento, 674 - Bairro Padre Bento, Itu, São Paulo, Brasil  
Atividades:
- Partilha do alimento saudável;
- Prece às Sete Direções Galácticas;
- Introdução ao Sincronário da Paz;
- Meditação da Ponte do Arco-Íris;
- Oficina de filtro dos sonhos.
Filmes:
- 2012 uma mensagem de paz;
- La Belle Verte;
- Mensagem da Água.
Participe você também com sua oficina!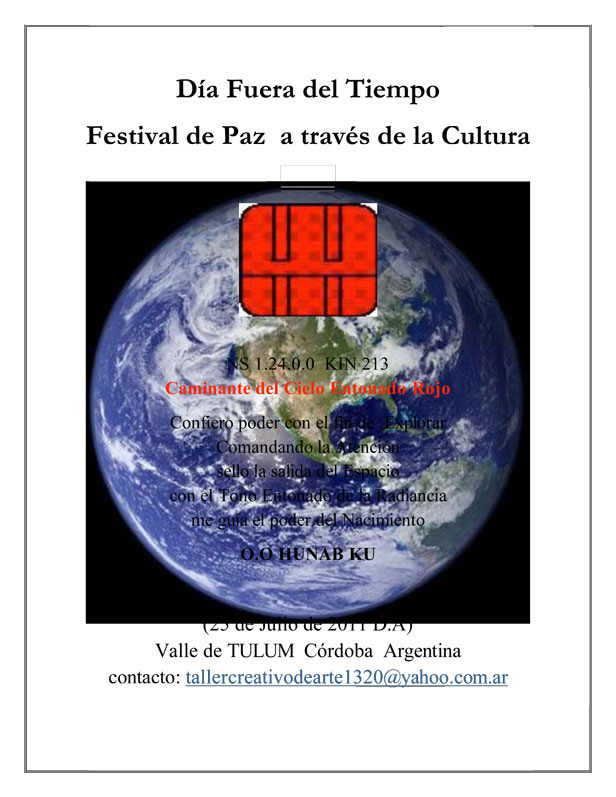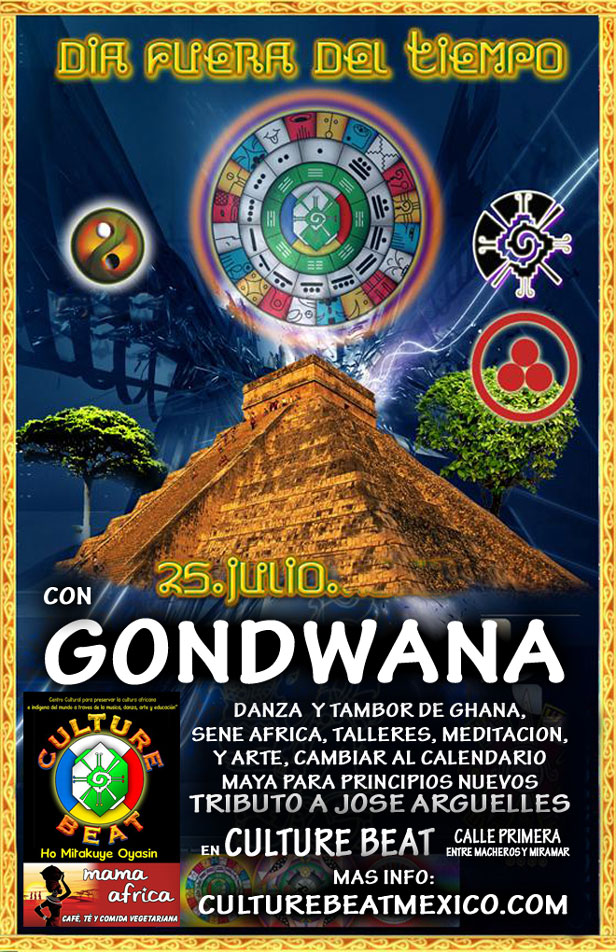 Santa Teresa - Costa Rica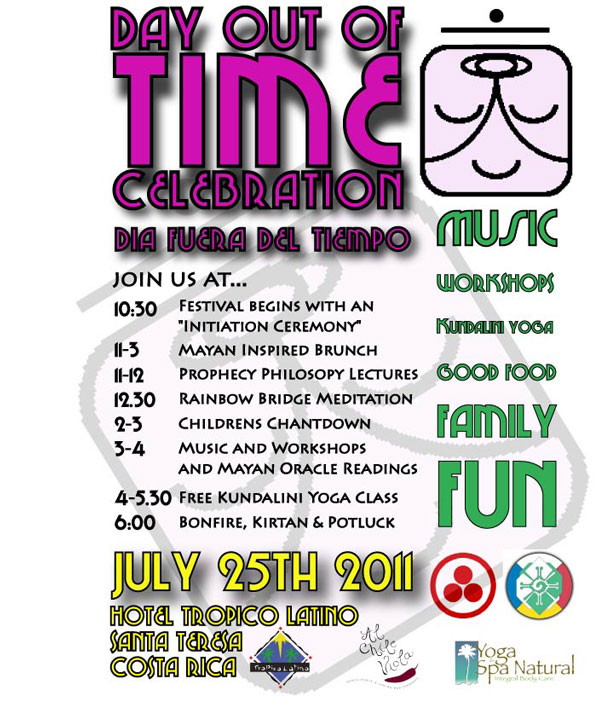 Caracas - Venezuela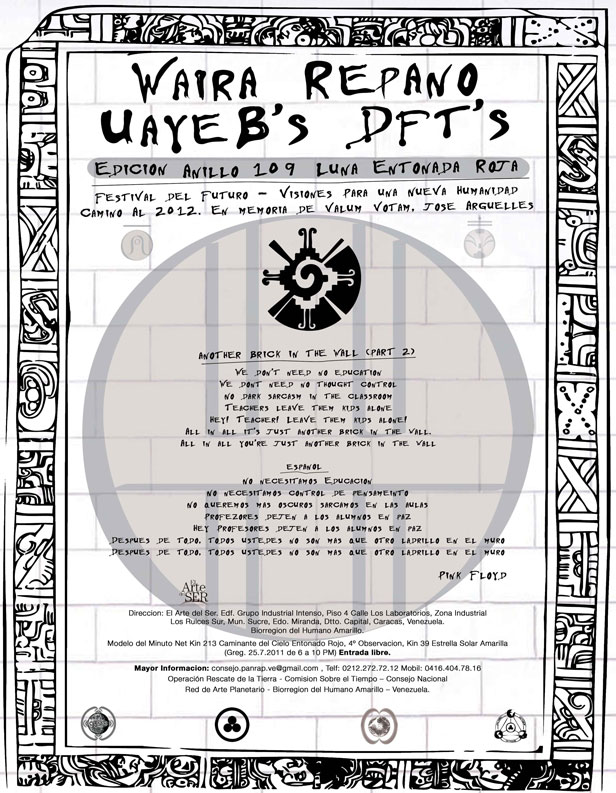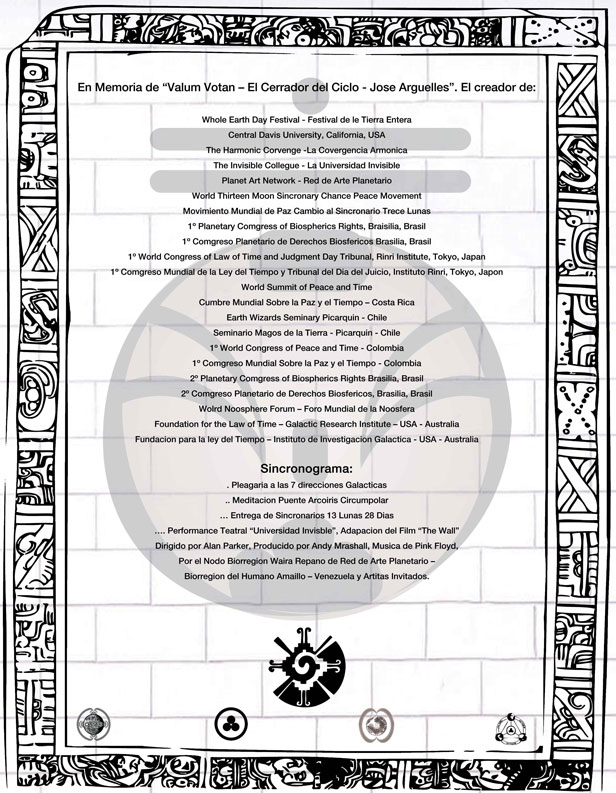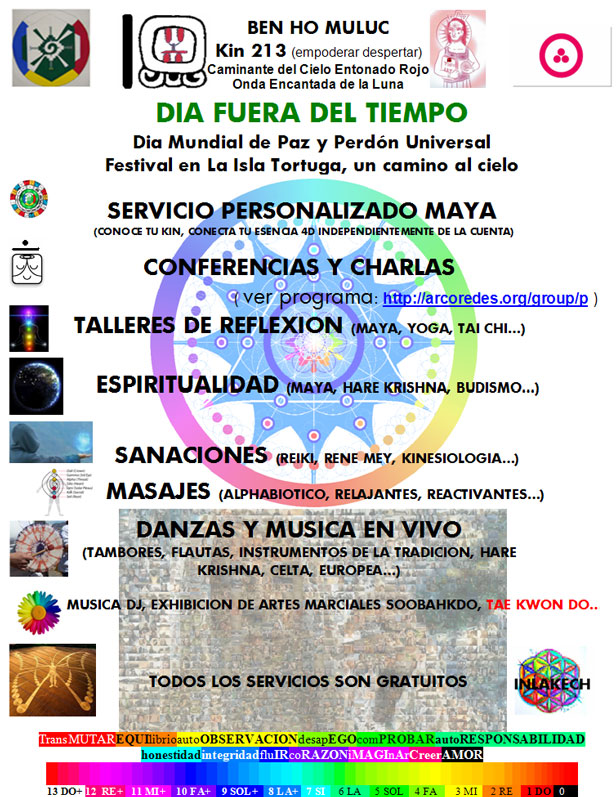 PARQUE DE LOS NIÑOS HEROES JUNTO AL ARCO LA CALZADA
Leon, Guanajuato, Mexico
Luna (477) 7-16-90-35 CEL 044 477 677 44 21
Ilusionista Blanco http://www.facebook.com/circul0
PROGRAMA DEL DIA http://arcoredes.org/group/p

Santo Domingo - Republica Dominicana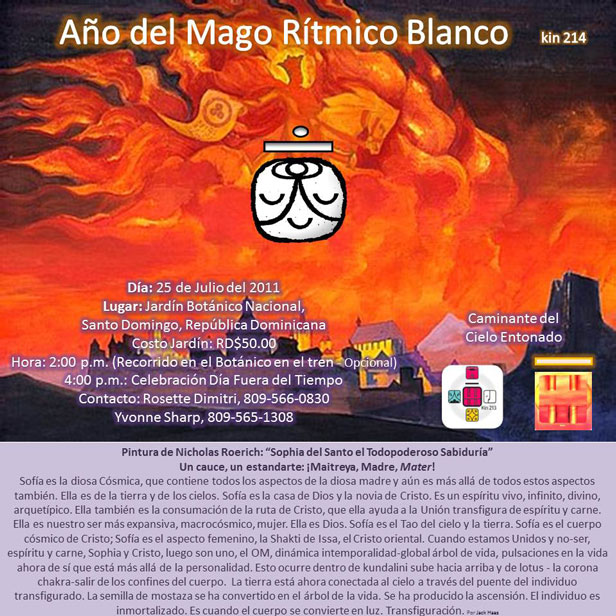 Pocitos, Aguascalientes - Mexico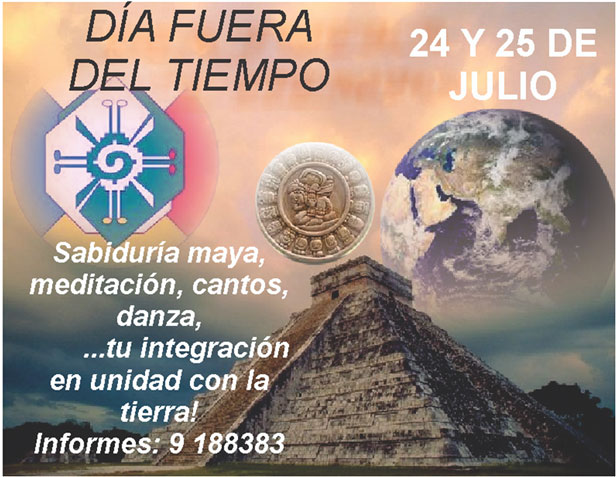 Santa Cruz, CA - USA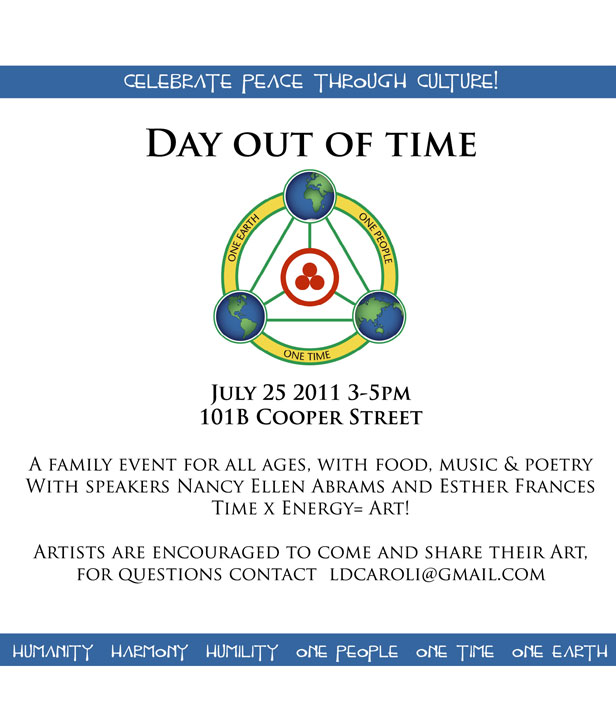 Cuernavaca, Morelos - Mexico
Nodo Cuahunahuac invita.
TIEMPO=ARTE=PAZ
DIA FUERA DE TIEMPO CUERNAVACA 2011
- ENTRADA LIBRE - (CONTAREMOS CON 2 LONAS, TARIMA Y PACTO CON TLALOC-NEPTUNO-POSEIDON NO FALTES)
Cuauhnáhuac Parque Melchor Ocampo en la selva de la ciudad de
Cuernavaca Morelos México
Los artistas somos rescatistas de la paz, cuando las personas sonríen por medio del arte se evitan muchos conflictos. La cultura es la alternativa opuesta a la violencia. Participa en esta festividad creando una obra de arte en la selva de la ciudad de Cuernavaca.
El Día Fuera del Tiempo, celebrado anualmente desde 1992, siempre cae 25 de Julio. En la Cuenta de 13 Lunas, este día no pertenece a ninguna Luna (mes), ni ninguna semana (o Héptada). Está entre medio del cierre del año previo (24 de Julio), y el amanecer del nuevo año (26 de Julio). La bandera oficial para el Día Fuera del Tiempo es la Bandera de la Paz.
Esta bandera es izada en 71 ciudades brasileras, donde es reconocido como un día festivo municipal oficial. En Japón, más de 100 Festivales para el Día Fuera del Tiempo, desplegaron este símbolo para unificar nuestras intenciones de "Paz Planetaria a Través de la Cultura". Este día es una oportunidad para experimentar la libertad de estar vivos, realmente sin tiempo y amorosa bondad. Ya sea en reuniones públicas o círculos privados, este día es una plataforma de despegue catalizadora para el año que viene, un gran aprovechamiento de la Presencia Telepática, y una manera perfecta de invitar nuevos participantes a la Armonía de las 13 Lunas.
¡La Celebración comienza en el Corazón!
PROGRAMA SUJETO A CAMBIOS
Plegaria a las 7 direcciones.
*Meditación del Bowl Cristal.
*Meditación del Rayo Sincronizador.
*Oráculos Mayas (Argüelles, Quiché, Mexica, Zapoteca, etc.)
*Terapias holísticas.
*Conferencias.
*Talleres ecológicos.
*Comida vegetariana.
*Artesanías.
*Adopción de plantas.
*Bendición del agua.
*Espectáculos de danza y música:
-Acrobacias y malabares por Jonathan Fierro Alarcon.
-Danza Capoeira por Mena Mlcra Vlzqz.
-Danza tribal por Inlakesh Cruz.
-Danzas armónicas de unificación
-Compañía de danza Árabe Hilal al Karif de Zhaina.
-Performance de aros y fuego.
-Visuales fractalicos por Damian Chavez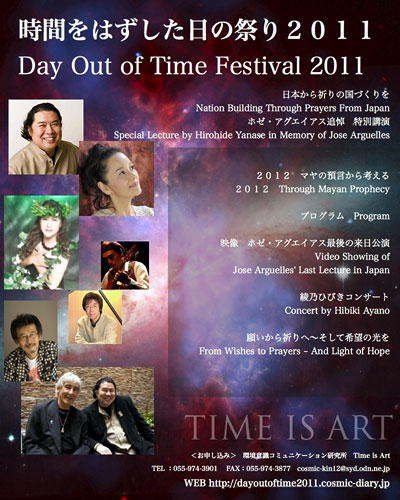 Baskemolla Ekoby - Sweden
THE DAY OUT OF TIME
This celebration on 25 OF JULY, which actually is celebrated all around the Earth. Is an initiative of the WORLD PEACE MOVEMENT and the PLANETARY ART NETWORK, NOW IS THE TIME TO CELEBRATE IN THIS PART OF THE WORLD
SWEDEN WELCOME TO THE NEW TIME.

The Day out of Time, celebrated annually since 1992, always falls on July 25th. On the 13 Moon calendar, this day is no day of the month, and no day of the week. It is in-between the closing of the previous year (July 24th) and the dawning of the new year (July 26th). The official flag for the Day out of Time is the Banner of Peace.
This flag is flown in 71 Brazilian cities alone, where it is recognized as an official municipal holiday. In Japan, over 100 Day out of Time Festivals displayed this symbol to unify our intentions of "Planetary Peace through Culture." This day is an opportunity to experience the freedom of being alive, true timelessness and loving kindness. Whether public gatherings or private circles, this day is a catalytic launch-pad for the year to come, a great, global harnessing of telepathic presence, and a perfect way to invite new participants into the harmony of the 13 Moon Calendar
Where: BASKEMOLLA EKOBY SKANE REGION SWEDEN
When: July Monday 25 at 10 in the morning
What to bring: a smile, a blanket, musical instruments, food for share, pencil and paper, and everyone that want to come.
what not to bring: alcohol, substances like drugs, weapons, angry face.
http://www.lawoftime.org/thirteenmoon/doot2011.html
here a link if you are interested in know more about it.
Welcome to the new time.
inlakech (I am other you).
Guelph - Canada
You are invited to a
Day Out of Time Celebration!!!!
Monday, July 25th, 2011 at 7pm

 At the home of Kim Lyons and Brian Gordon
82 Morris St., (between Alice St. & Ferguson St.) Guelph, ON N1E 5M3
(There is a white front porch with stained glass in the window. Come to the back door)
519-821-4473
People from all over the planet, in 90 countries, will be celebrating simultaneously with us!
Come and learn with us as we explore the Mayan 13 moon-28 day calendar 
and how to become 'on time' with yourself!
What is Day Out of Time? Learn more here: http://www.lawoftime.org/thirteenmoon/doot2011.html
Claim Your Time and Claim Your Freedom!!!!
The focus of our celebration will be Universal Forgiveness and Time is Art!

What to bring: 
• shaker, drum, or any musical instrument
• crystals, art, poems, songs, dreams, dance...objects of beauty
• chairs and appropriate clothing for outdoors
• food to share for the feast afterwards
• your friends and loved ones
You can never get to peace and inner security without first acknowledging all of the good things in your life. If you're forever wanting and longing for more without first appreciating things the way they are, you'll stay in discord
~ Doc Childre and Howard Martin ~
Boulder, Colorado, USA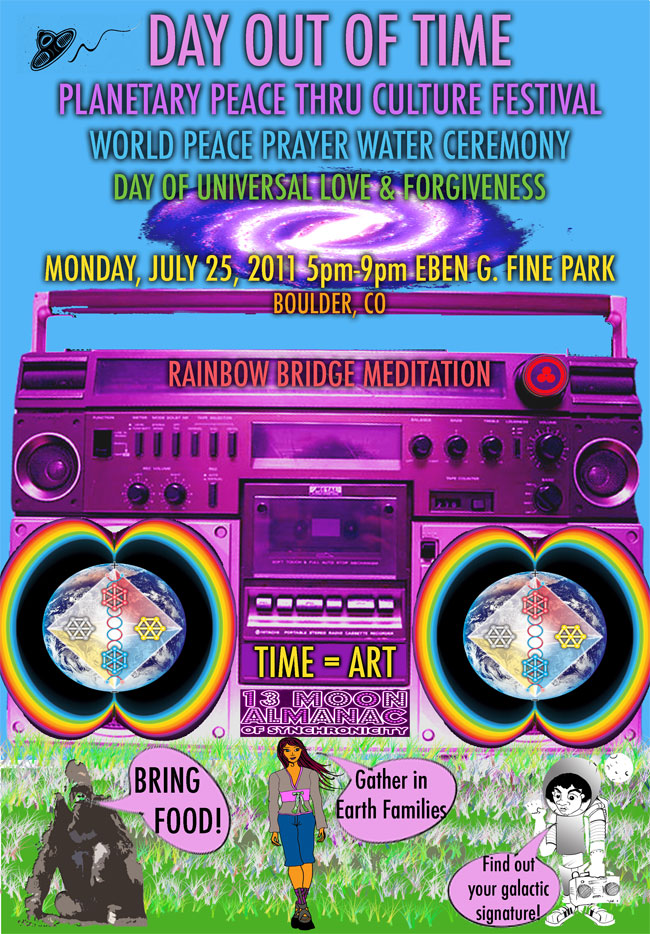 Puerto Rico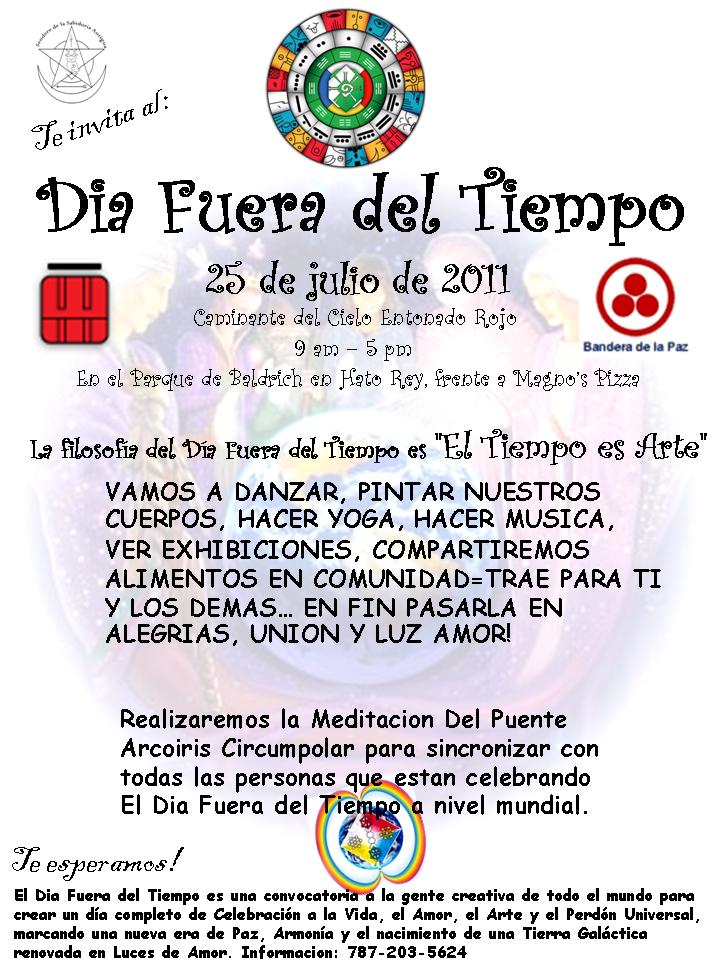 San Luis Potosi, Mexico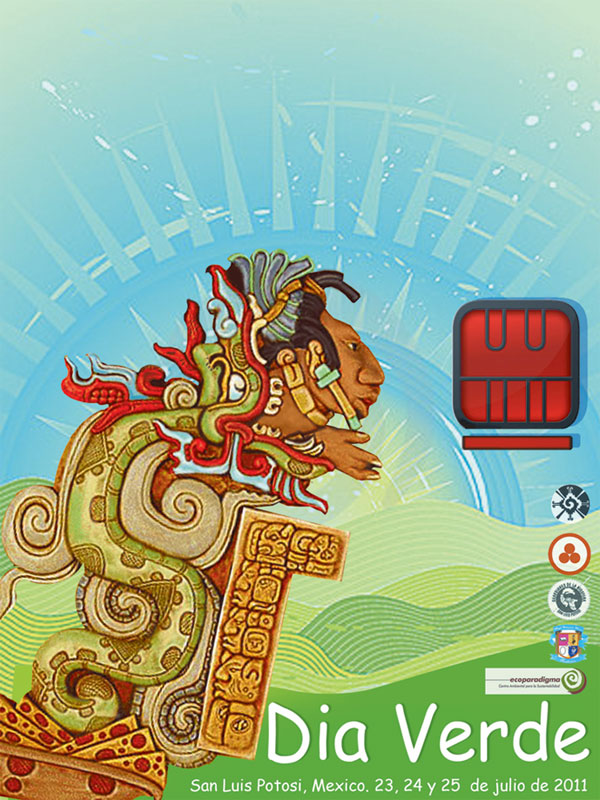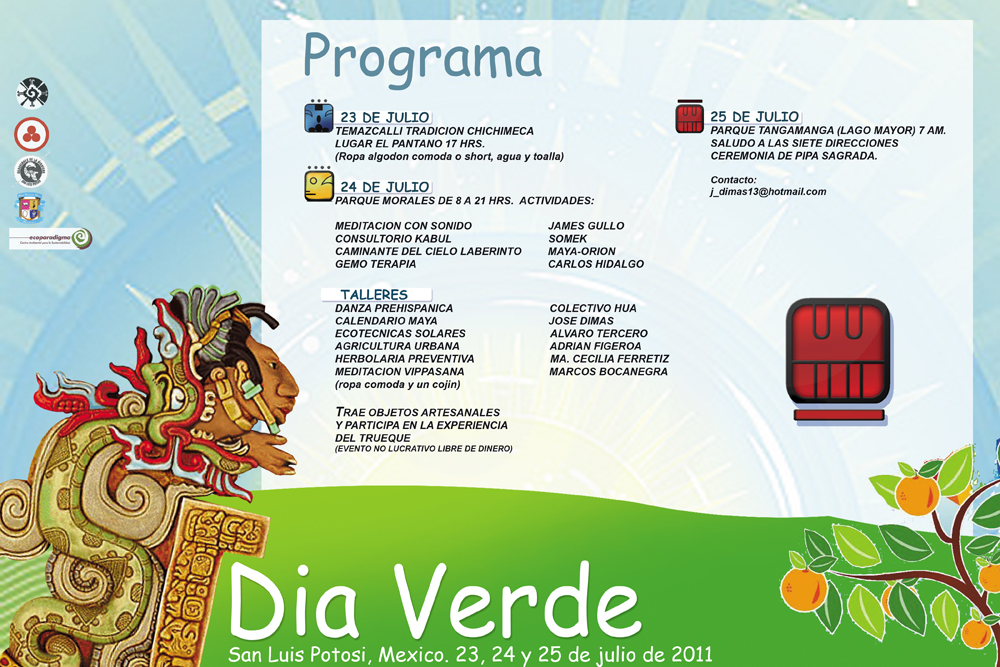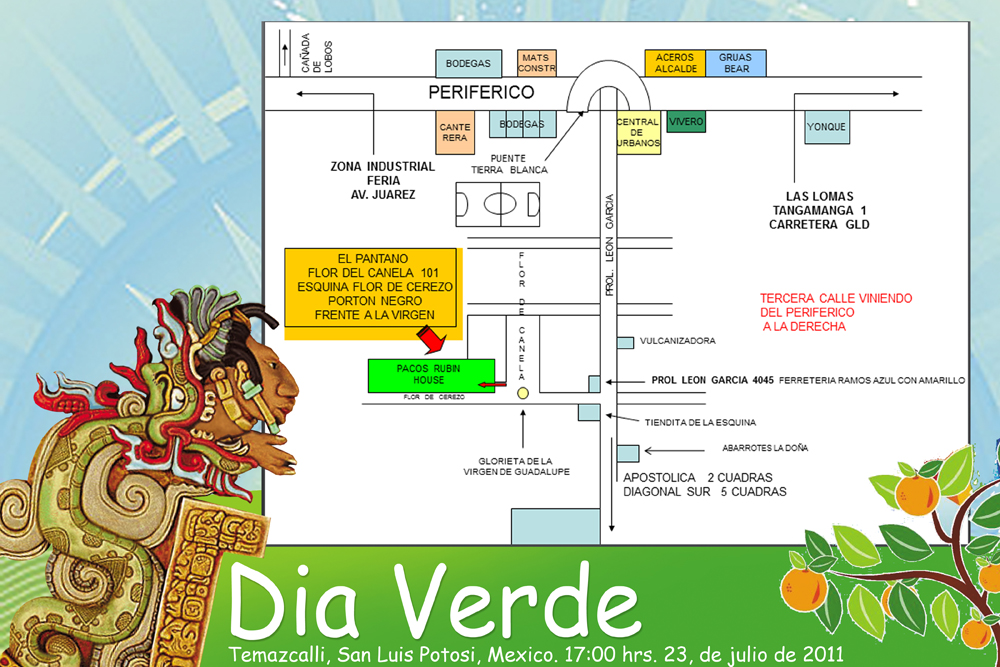 Chalmita, Mexico
Encuentro de Arte - Dia Fuera del Tiempo
Jardin UR Gaia, Uruguay
Día Fuera Del Tiempo en Ury: UAYEB en el Jardin:23 al 25 del 7

Iniciamos el Sábado 23/7 al medio día con TEMAZCAL en MONO ELECTRICO AZUL
Celebramos el cierre de año en esta ceremonia de purificación, donde nos volvemos uno con la tierra, liberándonos de todo aquello que no queremos portar para el nuevo ciclo (única actividad arancelada:$300)

Domingo 24: HUMANO AUTOEXISTENTE AMARILLO
jornada abierta de intercambio y celebración, donde el Tiempo es Arte, y cada uno se transforma en el artista de su propia creación.
compartiremos arte, música, videos, meditación, convivencia y prácticas de los códigos 13 lunas y la Ley del Tiempo

Lunes 25: CAMINANTE ENTONADO ROJO
Sincronizamos a nivel planetario con la celebración del Día Fuera del Tiempo
Meditación del perdón
Meditación del Puente Arco Iris
La bandera de la paz como símbolo del Nuevo Tiempo

los esperamos,
actividades abiertas a todos los seres de corazón abierto
entre todos crearemos una celebración en arte, armonía y amor
puedes participar en todos o sumarte a cualquiera de las propuestas

recuerda traer abrigo, mantas o sobre de dormir si te quedas y alimentos vegetarianos para sumar al colectivo
tu arte, alegría y compromiso de participar

los esperamos
La Tribu Azul del Jardín
nodorapuruguay@hotmail.com
Jardin UR GAIA: ruta 48 km 2.7oo.Las Brujas:canelones:uruguay
www.lawoftime.org

Netherlands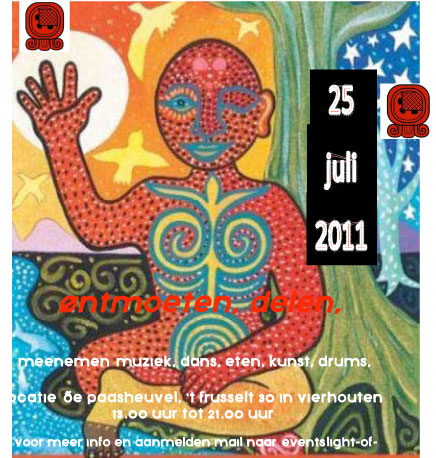 Zagreb, Croatia
GREEN DAY IN CROATIA, ZAGREB, JARUN LAKE, THE ISLAND OF YOUTH, BY THE LABYRINTH 17-20 H
 Dear friends, Earthlings, lovers of the Nature, admirers of the ancient Mayas, bearers of the starlight,
We invite all the good souls, brothers and sisters that want to join us in the celebration of the Green Day, Day Out of Time, to come to Jarun Lake so we can prepare together for the Mayan New Year, with music, forgiveness, song, prayer, meditation and the big wave of Love for all Earth… we will do the Prayer of the Seven Galactic Directions, Great Invocation, as well as the Rainbow Bridge Meditation…
 Everybody are welcome, bring your smile, love and good will…mat, water and the instrument you play.
 The meeting is scheduled for sending off the Mayan year of Red Overtone Moon, celebration of the Green (Out of Time) Day and welcoming of the New Mayan Year of the White Rhythmic Wizard.
 Zoran, White Electric Mirror, will lead the program.
 In Lak'ech
Monterry, México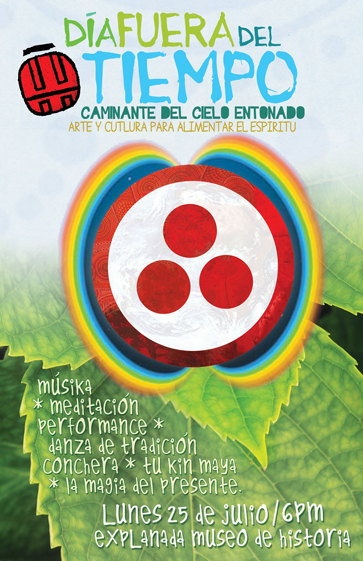 Caseros, Buenos Aires, Argentina

CENTRO "YO SOY"
Gral Hornos 3358
Caseros, Buenos Aires, Argentina

Celebramos el Fin de un Ciclo y el Comienzo de Otro,segun el sincronario (calendario)Maya .
Comenzamos el Año llamado MAGO RITMICO.
Ahora es el momento para comenzar a planificar el Festival del Día Fuera del Tiempo de este año, ¡haciéndolo el más grandioso hasta ahora! Este es el primer año en que su fundador, José Argüelles, está ¡al otro lado del velo! Veamos si podemos crear una manifestación de masas de buena voluntad unifica ...da en todo el mundo en nombre de la Tierra–y le enviaremos una señal, como a nuestros hermanos y hermanas del espacio– de que estamos listos para cooperar con el Gran Cambio.
La filosofía del Día Fuera del Tiempo es "El Tiempo es Arte". El principal emblema del Día Fuera del Tiempo es la Bandera de la Paz. El Día Fuera del Tiempo es una convocatoria a los artistas y gente creativa de todo el mundo para crear un día completo de celebración a la vida, el amor, el arte y el perdón universal, marcando una nueva era de paz y armonía y el nacimiento de una Tierra Galáctica renovada a partir de este Día Fuera del Tiempo faltarán 515 días hasta el 21/12/2012.
Esperamos que te Unas a esta Celebracion ,Unificando Amor Incondicional a la Madre Tierra y sus Habitantes
Confirmar Asistencia
al 4716-0897(Evangelina)
al 5197-0157(Fiorella)

evento en el facebook
Beijing, China
We are celebrating with you at Gold Angels in Beijing, a small group of Mayan. :))
Cheers!
Love & Joy, Irene
Pergamino, Argentina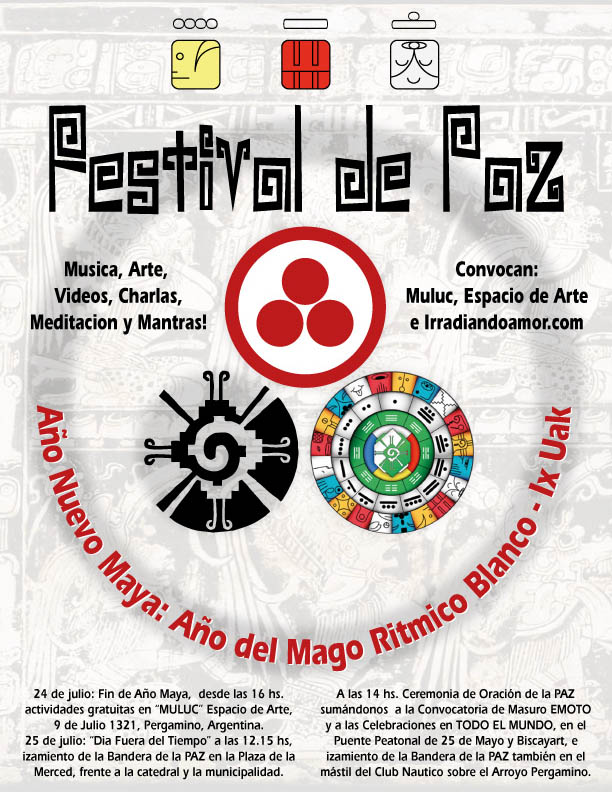 Claremont, California, USA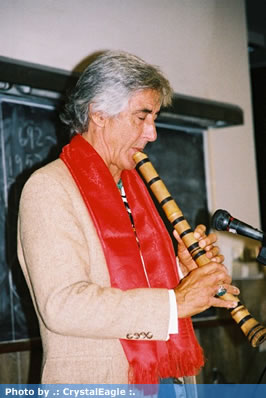 Maria Andrade and friends invite you to a Day out of Time
celebration in Memory of Jose Arguelles
On the Day Out of Time we practice the Rainbow Bridge Meditation
.............
©5 Moon Year (2011)
Foundation for the Law of Time